A poetic lunar landscape has landed on Vandtårnsvej in Gladsaxe, where 1:1 Landskab has created a beautiful arrival area for guests and employees of Novo Nordisk.
Novo Nordisk on Vandtårnsvej
12-027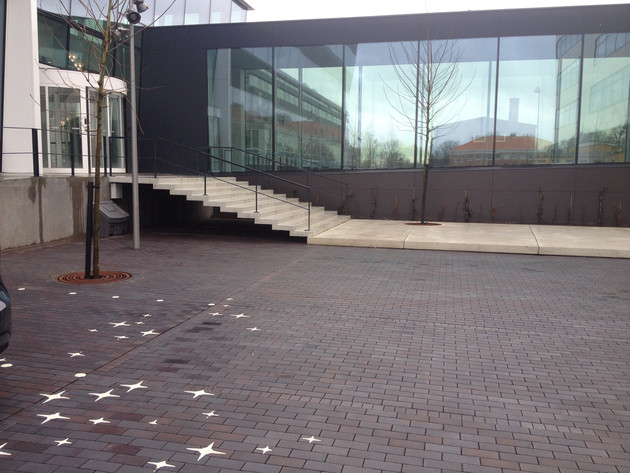 Description
The monumental black and white office building gets a wonderful counterbalance in the black bricks that adorn the car park.
Moonlight lighting
White stars glisten in the brick, lighting up in the evening, when a special moonlight shines down over the site. The light is designed by Sweco lighting together with 1:1 Landskab, and creates a fabulous landscape in the heart of the business district by means of effective, cold white colours. The contrast between darkness and light is enhanced by beautiful white flowers in the landscape, which light up in the moonlight lighting, while classic plane trees create a welcoming setting with a southern European vibe.
Floating stairs
Floating white stairs in fibre-reinforced concrete lead from the car park into the building and create an impressive entrance. The stairs are placed on a raised concrete plinth that runs around the entire building, forming an effective contrast to the black brick surface of the car park.
Nominated for the Danish Lighting Award
The building and landscape were nominated for the Danish Lighting Award in 2017. Among other things, the nomination stated:
"The outdoor lighting assists wayfinding, creates a sense of security and an ambient outdoor space, as well as a good visual connection between the spaces, inside and out"